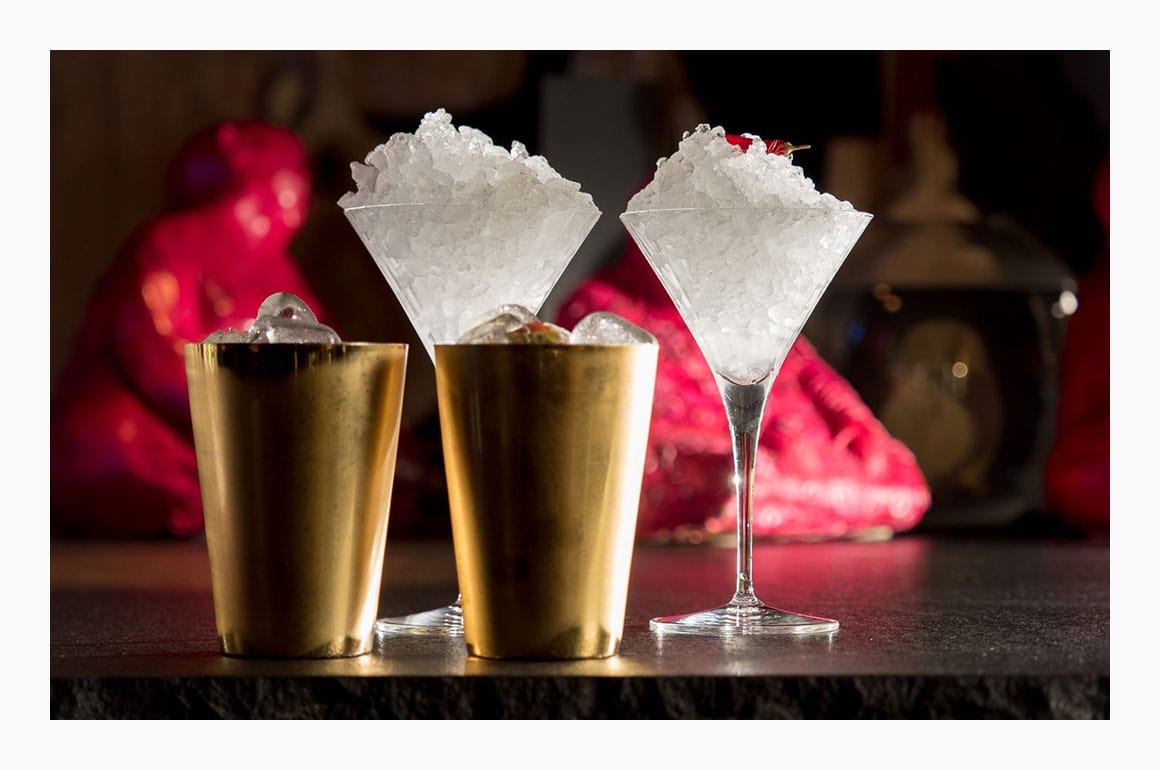 Suggerimenti is one of a kind place. Whether you start the evening in the dehor or inside the restaurant, Lorenzo's appearance is enough to cast a spell on you and make you forget about time and space of the real, outside world. Lorenzo is the genius loci, the deux ex machina, the artifex maximus of this place.
His cocktails with exotic fruits, the done-at-the-moment appetizers, the lights, the table set with elegance, the greenery, the plants, the homemade bread, the smiling staff, always polite, professional, warmly human, never detached. There is nothing predictable, trivial, already seen in this place. And each time it is different, welcoming, astounding.
For a night in two, a dinner with company, a birthday with friends. Each visit is a surprise. For the eyes, for the palate, for the mind.
There is no menu, it only takes shape and form inside the mind of Lorenzo. There is no choice between options, you can only tell him if there is something you do not eat, if you have allergies, if you have an intolerance. Yet this factor, which might appear limiting, is instead the biggest gift that you could receive: that of a journey through mysterious, undiscovered flavors and odors and unusual yet balanced taste juxtapositions. You should just let yourself go and get engaged.
With a few words Lorenzo will narrate the itinerary of this journey and will impress you course after course, glass after glass. Not only taste and smell, but also touch, hearing and vision. Each dish is served with love, on delicate ceramics and colorful glass manufacts, fresh flowers and original, curated mise en place.
Suggerimenti is not only a restaurant and cocktail bar but also organizes receptions. And I am telling you this because I have been to one. The service is impeccable, never intrusive, not confused but ordered, silent, precise. Similarly to the restaurant location, your home will be magically transformed in a harmonious mix between the delicate taste of Lorenzo and your wishes. To be left, at the end of the occasion, perfect and tidy just as before. The guests will be ecstatic. And you will live an unforgettable experience.
I do not want to reveal you everything… this is a journey to be lived firsthand. I will leave you with some words by Lorenzo and a small suggestion: if he has some spare time, sit down with him, at the end of your dinner, to talk about life, beauty, creativity, dreams. Because… "man cannot live on bread alone".
Each time you sit, whether alone or in company,                                           
you will invetably end up listening to  the flavor of this place,                         
a taste of quality and beauty where cooking is love, art and culture.
Where there is no need to pick what to eat,                                                     
but only listen. Listen to the smells,                                                                   
the noises, my words that in a few minutes explained what I created today.
It is a new form of serving food,                                                                   
scanned by its rhythm and its pauses,                                                                
by its measures and its excesses.
You will necessarily encounter the neighbors that you do not know,             
you will take a  look into their plates, meeting their eyes,                             
you will listen to their conversations, you will certainly approach them, 
getting distracted, for a moment, from the contemplation of the food
You will lose yourself inside of  a light dialogue                                         
loose, disengaged yet not superficial: …convivial! Conviviality is cheerfulness, vagueness, 
distraction: all this in a state of full awareness of your senses.
Lorenzo

Visit the GALLERY to see all the photos of Suggerimenti.
Suggerimenti – Restaurant, Receptions, Bar
Viale Malta, 23, 29121 (Piacenza PC)
www.suggerimentipiacenza.it
Tel. 0523 326368
Cell. 335 5363758
Email lorenzo@suggerimentipiacenza.it
closed on Wednesday and Sunday
LOCATION: 9
QUALITY / PRICE: 8
THEFOODRIVER MARK: 9