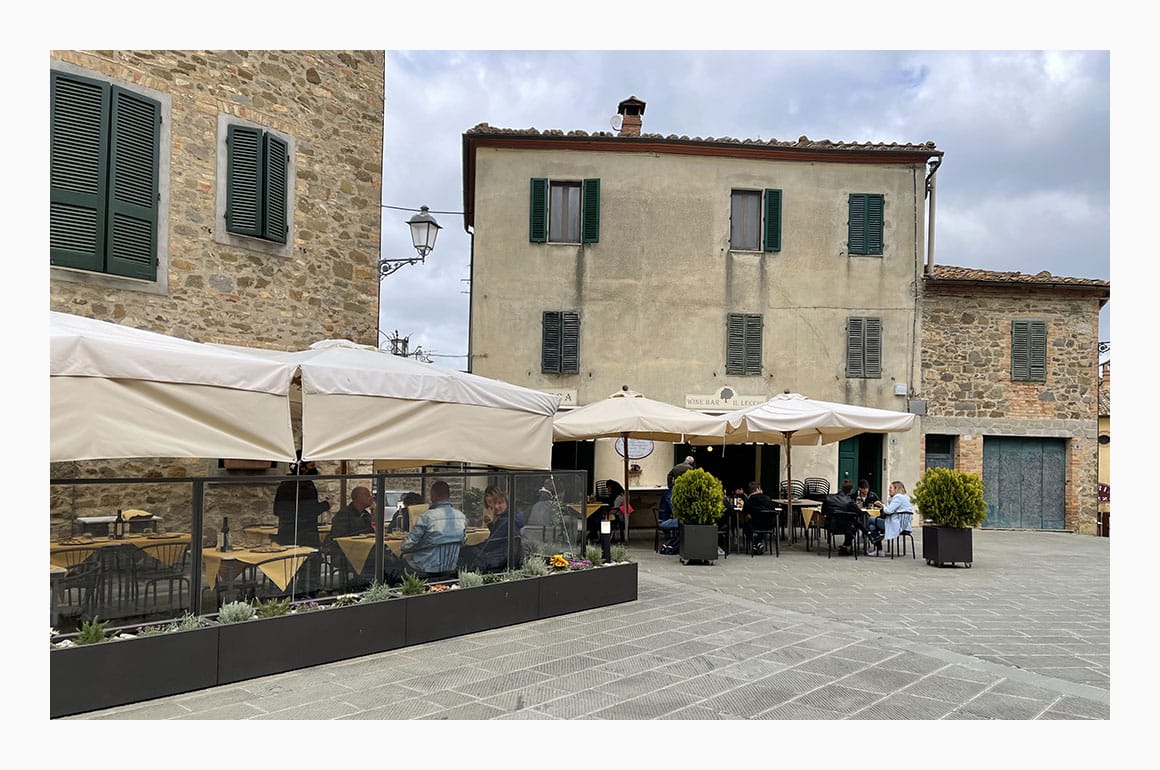 If you are planning a vacation in Tuscany -and the Maremma area is among your destinations, or even just a place you will pass through- it is highly recommended to make a stop at the trattoria and winery Il Leccio, in sant'Angelo in Colle.
I have known this restaurant for over eight years and I was never disappointed. I always come back with great joy both for lunch or dinner, for a quick bite or to buy a bottle of wine, oil and local products.
The establishment is historic and offers a typical cuisine, a little refined, with a splendid list of local wines and a menu that changes depending on the seasons enhancing the native products. From typical Tuscan appetizers, with croutons and cured meats, to salad of raw artichokes and pine nuts, homemade pasta such as pici and tagliatelle seasoned with wild boar ragout, as well as the famous ribollita. Among the second courses there is no shortage of proposals for Florentine steaks, wild boar, roasts and cheeses. A healthy and genuine cuisine that will amaze you for the care with which it is prepared. My favorite dish remains fried chicken with vegetables…. crisp… not too greasy, tasty and very soft…. one of the reasons I love Il Leccio! Highly recommended!
Maybe accompanied with a good Rosso di Montalcino or a Brunello if you want to dare a little more, since we are in the area. The recharges on the wine are really reasonable, you will drink very well at a good price, and the wine list presents a wide variety of proposals of the territory, from the well-known Brunello and Rosso di Montalcino to the local rosés and whites as well as a wide choice of supertuscans.
If you have any doubts, let yourself be advised by the very good Alessandra, who will guide you through the menu and the wine list.
Attendance is both local and international. The restaurant is located on a beautiful medieval square where for lunch, even in summer, you will always find a little refreshment. If the temperature allows, you can eat outside: the tables are sheltered from the sun and the breeze that often touches the surrounding sweet hills. Inside, the atmosphere is warm and welcoming, with well-prepared tables, set between stones and wood, simple and tasteful furnishings.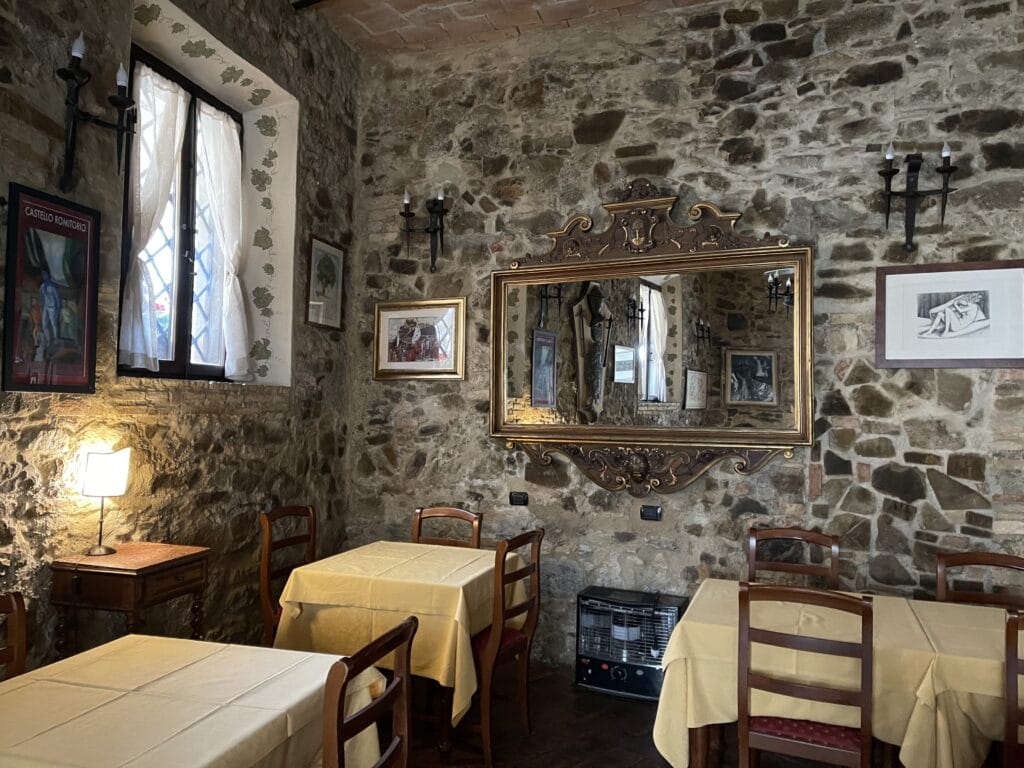 But it is in the evening, in summer, when daylight leaves room for the stars and at night that the Leccio turns into a magical place. A small and lively corner whose subdued and cheerful voice is surrounded only by the silence and scents of the valley that you can admire overlooking the lookout.
The Restaurant is located 10 minutes from Montalcino, known not only for its wine, but as a splendid medieval village, surrounded by a mighty city walls and dominated by an ancient castle. Less than a 20-minute drive away, between enchanting views and breathtaking hills, you will find the abbey of Sant'Antimo (www.antimo.it). If you reach it passing through Sesta, you will get there by making a very well maintained white road, which crosses the most beautiful countryside and wineries of Montalcino. Sant'Antimo is a magical place, which deserves not one but more visits, it is an ancient abbey inhabited over the centuries by Benedictine monks and founded, according to legend, by emperor Charlemagne. The church, built in the 12th century, is considered one of the masterpieces of medieval architecture. You will breathe peace, serenity and magic. Enter, close your eyes, let yourself be carried away by the songs of the monks and get lost among your sweetest thoughts.

Visit the GALLERY to see all the photos of Il Leccio
Il Leccio – Trattoria and Winery
Via Costa Castellare, 1 | Sant'Angelo in Colle, Montalcino, Italy
www.trattoriailleccio.com
phone. 0577.844175
closed on Wednesday
LOCATION: 9
QUALITY/PRICE: 8
THEFOODRIVER MARK: 9